History was made on Tuesday night for Penn State. In the first inning against Bucknell, pitcher Bailey Parshall surpassed Missy Beseres to become the program's all-time career strikeout leader, which now is 750.
Parshall's night didn't stop there, as she became the all-time shutout leader to accompany her first record, burying the Bison in her 21st career shutout.
Parshall has been setting records ever since she entered the pearly gates of Happy Valley, leaving a career to remember.
Coach Clarisa Crowell has only been a part of Parshall's journey for three years, but she still knew how significant the achievement was.
"Tonight was a special night," Crowell said. "There has been a lot of great pitchers in this program. For her to have been able to break the strikeout and shutout record, it's pretty incredible. I'm just thankful to have been a part of her journey."
It hasn't been all smooth sailing for the ace. In her first year, she had to adjust to playing at the collegiate level, putting up an ERA of 3.20.
Despite that, she still accumulated 184 strikeouts, making her impression early in her career. Her ERA has only improved since then, having her best season currently at an ERA of 1.33.
Through the time she has spent with the Belle Vernon, Pennsylvania, native, Crowell has seen her adversity through both the toughest and best times.
"She's a very determined young lady, and she works really hard at her craft," Crowell said. "There's not a lot of pitchers that study as much film as Bailey Parshall."
For a star athlete such as Parshall, it's hard to stay on top of her game, but she has been successful in balling out for her unit.
Crowell knows from a player perspective what it's like to stay elite, saying how Parshall has done an outstanding job of just finding ways to stay on top of her game.
The fifth-year gives her thanks to the players and coaches around her, saying they are the ones that push her in the bullpen every day.
"Being out on the field knowing that the bench is always cheering and energetic, whether it's a good play or bad play, and the culture that we just have each other's backs is huge," Parshall said. "I don't want to give up a home run, go into the dugout and no one look at me. Having that eye contact and camaraderie we have is really important."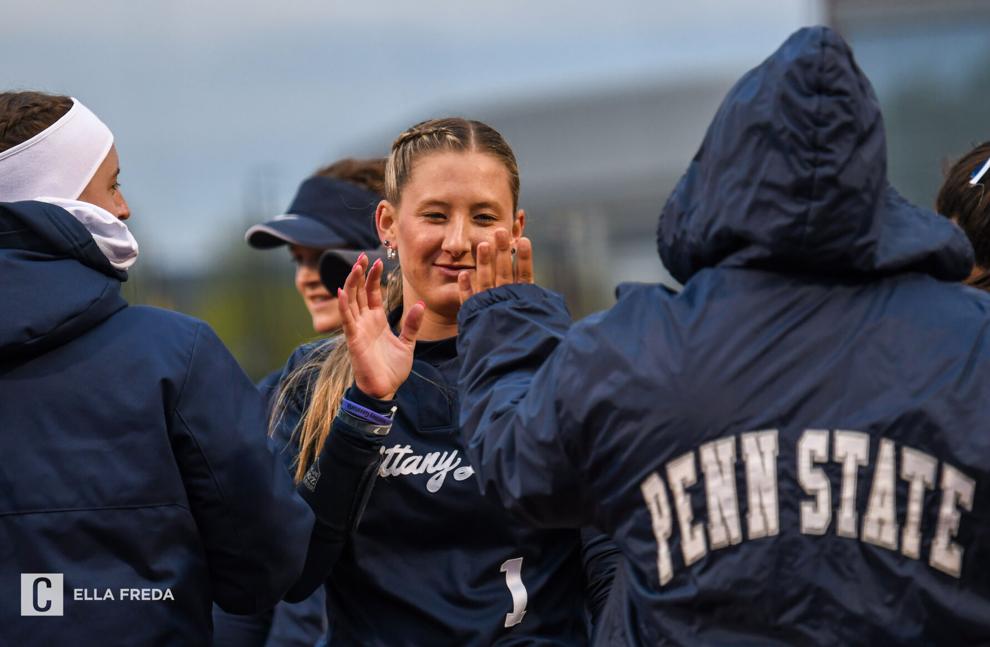 First-year pitcher Paige Maynard and second-year pitcher Lydia Spalding will have tough shoes to fill going into next year's schedule, but they're learning from the best Penn State has to offer.
Whether through the bullpen or after a game, Parshall tries to give a helping hand where they need it, saying the youngsters are always willing to ask many questions.
"This is great for our freshmen to see something like this happen to give them motivation to be in my shoes," Parshall said. "Being able to contribute what I know from game experience is something that I value."
Crowell also said how Parshall has done a fantastic job of continuing to develop a lot of pitchers when they get to be a senior, brightening the Nittany Lions' future.
As for Parshall, she has received many achievements and nicknames to go along with those achievements from her teammates and coaches, but the most notable one is Queen B for her numerous strikeouts.
Even though she has had so many achievements and continued to improve, the 5-foot-7 pitcher acknowledges there is still more to her game she has to improve on.
"Something I definitely struggle with is negativity," Parshall said. "Getting over giving up a hit. I think being able to bounce back quicker than what I do is something I can always work on."
Parshall and her arm have been giving it their all this season, but the clock is ticking till she has to say goodbye.
Crowell knows the little time she has with her star pitcher, acknowledging all the little things she does behind the scenes that nobody realizes.
"When it comes to community service and raising money for THON, Bailey is sort of the unsung hero in the locker room because of all the things that she does," Crowell said. "Because of all the things that she does for the program, I will miss her next year and the program will definitely miss her."
MORE SOFTBALL COVERAGE
After a weekend sweep of Rutgers, Penn State continued its offensive strides against Bucknel…