When the dust settled, the 2022-23 season proved one of the most successful in Penn State's history.
Despite the rollercoaster feel at times, the Nittany Lions eventually parlayed a strong regular season into an NCAA Tournament berth. There, the team enjoyed its best postseason since 2017, downing Michigan Tech in Round 1 before being eliminated by Michigan in an overtime showdown.
Heartbreaking ending aside, Penn State exceeded its preseason expectations and put together a memorable year. While many players had a hand in this performance, there's one player who truly set the tone.
Team MVP: Liam Souliere
This past season was junior goalie Liam Souliere's first as a year-long starter.
After taking over for Oskar Autio late last season, Souliere had high expectations coming in. Not only did he meet them, but he arguably exceeded them.
Appearing in an easy career-high 36 games, the netminder accumulated a .917 save percentage, while also allowing only 2.43 goals per contest.
These strong numbers helped Souliere routinely keep his squad in games, and he continued to rise to the occasion during the postseason.
Although Penn State bowed out in the first round of the Big Ten Tournament, Souliere still fit in a monster performance during the conference playoff. In Game 2 against Ohio State, Souliere made an astounding 55 saves in over 70 minutes of ice time in a 2-1 overtime win for Penn State.
Once the action reached Allentown, Pennsylvania, Souliere continued excelling. He pitched the largest shutout in NCAA Tournament history against Michigan Tech during his squad's 8-0 win. Then, against Michigan, he dug deep by saving 41 pucks before ultimately surrendering a season-ending goal in overtime.
Heading into his senior campaign, Souliere should only continue building off of a season where he established himself as the backbone of Guy Gadowsky's lineup.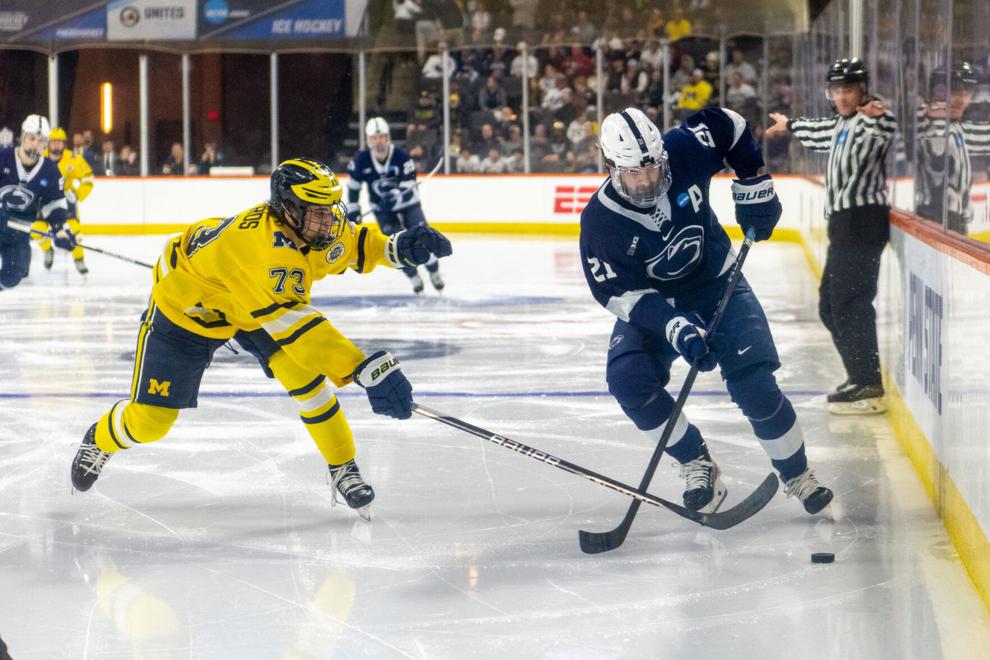 Offensive Player of the Year: Kevin Wall
While Souliere played a huge factor in Penn State's winning ways, he wasn't the one scoring the points. On offense, senior Kevin Wall consistently left the largest impact.
For the second straight season, Wall led the team in both goals and total points. He found the back of the net 17 times, while also divvying out 14 assists.
Wall's presence was often essential, as the Nittany Lions outscored opponents by 20 during his minutes. Regularly paired with fellow seniors Connor MacEachern and Connor McMenamin, Wall's +/- mark was the second best on the roster behind sophomore Ryan Kirwan.
These statistics were further aided by his discipline, as Wall committed only four penalties in 39 appearances.
Providing a steady hand throughout what was likely his final run in Happy Valley, Wall's season should be remembered as a resounding success.
Rookie of the Year: Dylan Gratton
While Wall and many of his fellow upperclassmen played huge roles in Penn State's strong campaign, there were also notable contributions from the team's trio of freshman defenders.
Dylan Gratton, Carter Schade and Jarod Crespo all logged ample playing time for the revamped blue line, and Gratton especially stood out.
Often paired with sophomore Simon Mack during the stretch run, Gratton put together an effective debut season in Happy Valley. Finishing with an impressive +15 mark across 33 games, Gratton impacted winning when he stepped onto the ice.
He also flashed some offensive potential by tallying 11 points, including two scores. Additionally, Gratton was rarely careless with his stick, blocking 38 shots while committing just one penalty all season.
With his brother, senior Tyler Gratton, holding a reputation as one of the team's most physical players, the younger Gratton certainly differentiated himself in his first collegiate season.
As Dylan's college career rages on, he'll likely expand on his already-sizable defensive role. Once that comes to fruition, there's little reason to think Gratton won't continue to be a mainstay in Gadowsky's defensive lineup.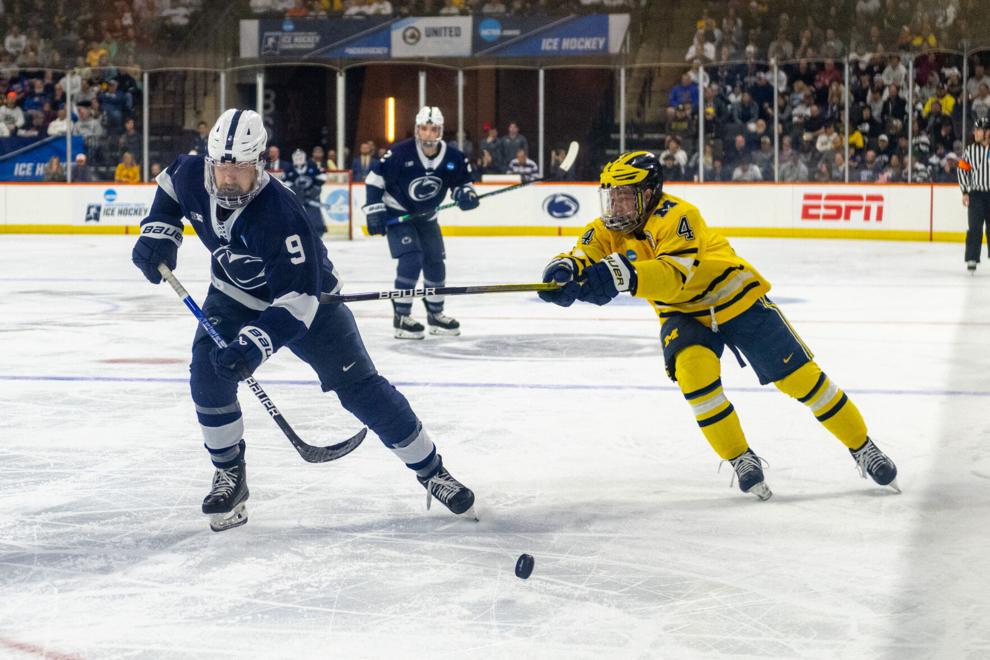 Most Improved Player: Xander Lamppa
Someone who became a mainstay this past season was junior forward Xander Lamppa.
The Rochester, Minnesota, native's role was previously a limited one, skating less than 30 times in each of his first two years at Penn State. However, in Year 3, Lamppa became a lineup lock.
Appearing in a career-best 37 games in 2022-23, he also tallied other high marks of 19 points, six goals and nine blocked shots.
But where Lamppa elevated his play the most was in the faceoff circle. After only being tasked with 19 draws in the past, Lamppa is now a trusted hand in those scenarios.
Winning approximately 54% of his 529 draws this season, he created many offensive opportunities for Penn State all year long.
Approaching his fourth year as a Nittany Lion, Lamppa's work ethic should only continue to pay dividends.
Culture Builder of the Year: Paul DeNaples
The defining trait many Penn State skaters point to when discussing the team's success is the strong culture.
Gadowsky often says the buy-in he receives from players to create a healthy and committed locker room is a major part of why the blue and white has reemerged as a playoff contender.
Out of all of the players on this year's roster, nobody has become more of an exemplifier of this than fifth-year senior Paul DeNaples.
The 2022-23 outing was DeNaples' second straight as team captain, and he continued to provide consistency and leadership all season.
During his final season in Happy Valley, DeNaples tallied three goals and 10 total points. He also was second on the team in blocked shots with 49 and helped Penn State outscore opponents by eight during his ice time.
Additionally, DeNaples showed up when it mattered most by tallying a point in each of the two NCAA Tournament contests.
When the buzzer sounded on DeNaples' final Penn State game, few would argue he didn't leave everything out there on the ice.
By remaining a composed leader who'd always ramp things up when the time came to lace his skates, DeNaples provided Penn State's defensive unit with a focused and productive effort, both this season and during his entire five-year stay.
His legacy is one that will continue to define the Nittany Lions' program going forward.
MORE HOCKEY COVERAGE
Former Penn State skater Connor McMenamin has reportedly found his transfer destination.