"To The West - Introspection"
"To The North - Wisdom"
"To The East - Illumination"
"To The South - Innocence and Truth"
For 40 years, those words have remained painted in the center of a broad green-and-orange mural beneath the Willard Building in the center of Penn State's campus.
Under some grating and surrounded by electrical equipment, the wall painting has survived in a dank and occasionally semi-flooded tunnel, which can be accessed on foot on the western side of Willard near an extension of Fraser Road.
Passed by thousands each day, the art is nearly invisible to most who walk by. Only the very left panel can be seen from the outside. But this edge has drawn in a consistent audience since its creation, and it has brought with it just as many questions.
The painting, which features tall plant stalks and orange geometric patterning, has remained essentially without context for years. 
Its creator, its era and its background have been more or less a mystery to the Penn State community.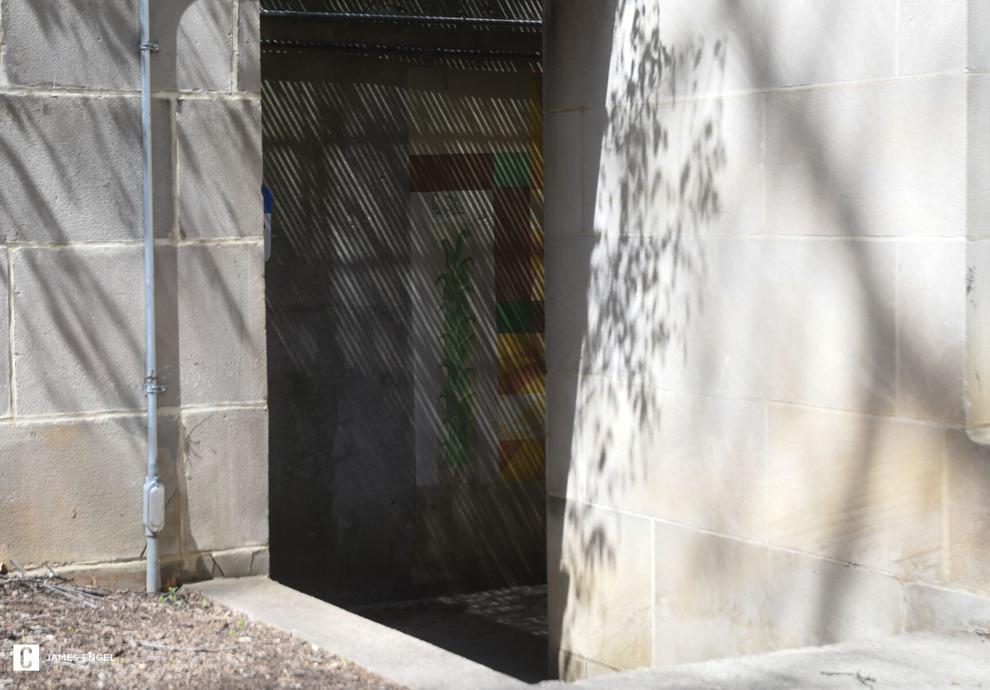 A research services specialist in the Eberly Family Special Collections Library at Penn State, Alex Bainbridge said she began researching the origins of the mural in 2017 after a patron requested information from the library archives.
Searching through files on the Willard Building, the Office of Physical Plant and The Daily Collegian archives, Bainbridge said she was forced to report back an inconclusive answer to the patron.
Since then, she said Special Collections has received at least one request a year related to the subterranean work.  
Roadblocks like these aren't uncommon in the archival field, she said, but this one became the "classic roadblock" to her. Each time she hit a similar point on another project, she said she thought back to "the damn mural."
"What it stands for, for me, is that archives will be forever fascinating," Bainbridge said. "It takes a lot of research with these sorts of mysteries to piece together the clues, and people can do it for just eons."
Outside of its central location on campus, Bainbridge said interest in the mural was likely bolstered by its role as a PokéStop in the alternate reality game Pokémon GO, which allowed players to collect in-game items by visiting the mural.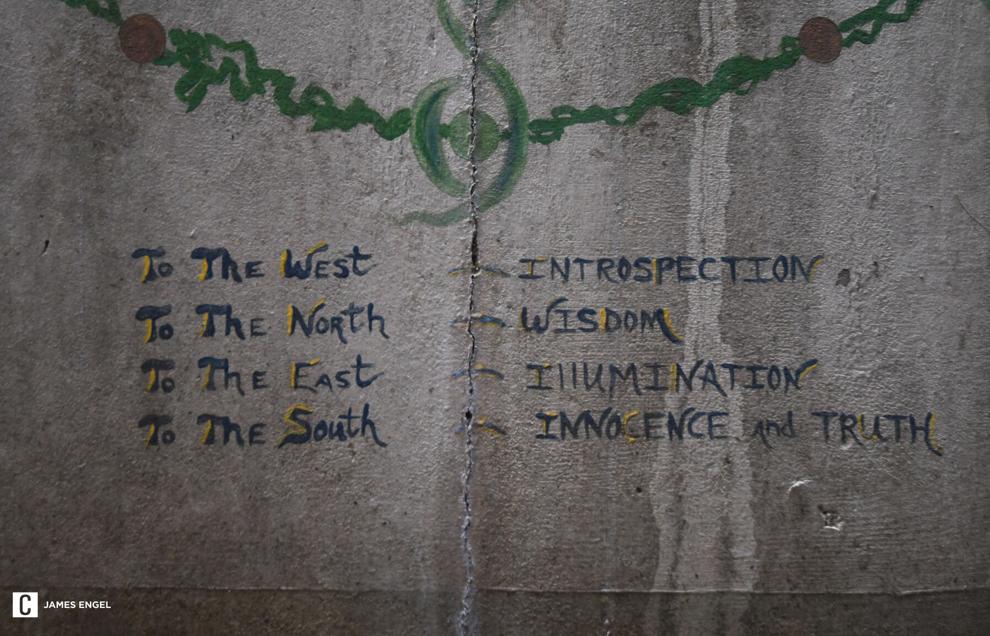 In addition, an article published on the site Atlas Obscura gave the mural a public face and web presence for those interested to flock to. 
Atlas Obscura is a site allowing users to publish information about obscure or lesser-known locations in various places throughout the world. Similar to Wikipedia, it lets users edit and add content about places of interest abroad or at home. 
And in 2017, that's what Steven McAninch did. 
At the time, McAninch was a pharmacology and toxicology student at Penn State. He said he came across the mural, and after finding no public information about it, he decided to throw it on the site.
He compared the style of art on the wall to that found in the mysterious Voynich Manuscript, a strange Italian Renaissance codex containing illustrations of unknown plants with descriptions in an undeciphered language.
"Once again, the meaning of this inscription, beyond interpreting or expounding upon the design, is unknown," he wrote in the article. "Some speculate this is either guerrilla art or the remnant of a mural project by a painting class. Whatever the case, this artwork is worth seeing if you have a few minutes and aren't afraid of a bit of litter."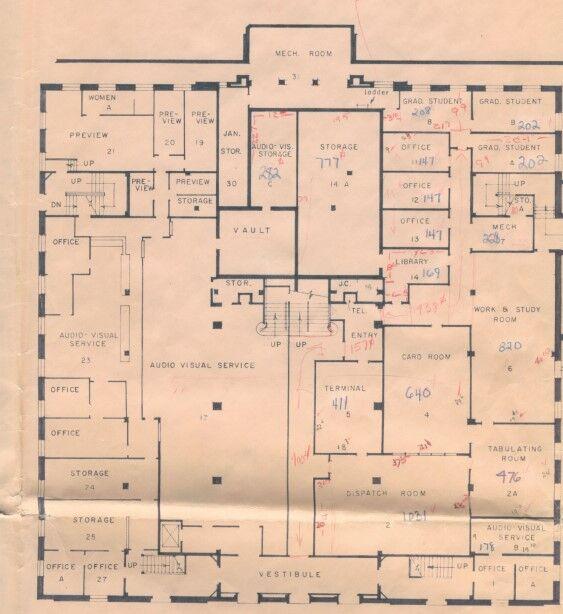 McAninch graduated in 2019 and is now a research technologist in the Penn State Cancer Institute in Hershey, Pennsylvania.
He said he always felt the mural was "very beautiful," and he appreciated the coloration and patterning.
"I didn't know what message or philosophy it was trying to get across. It was nonetheless beautiful and food for thought," he said. "It was a small and mysterious part of my everyday world on campus while I lived there and spent my days there. That made it pretty meaningful to me."
But outside the boxes and negatives of the library, Bainbridge said she came across one clue that set the groundwork for understanding the hall-spanning opus.
In the now-deleted forums of Atlas Obscura, an account called "mpf6" commented that they had helped create the mural in class in 1982.
Bainbridge then confirmed two mural painting classes had taken place in the summer of 1982 — Art Education 487 and Art Education 488. And she found a professor. 
Yar Chomicky was a prolific artist who served as a Penn State faculty member and professor from 1949-1986. He also taught the supposed art classes in the summer of '82.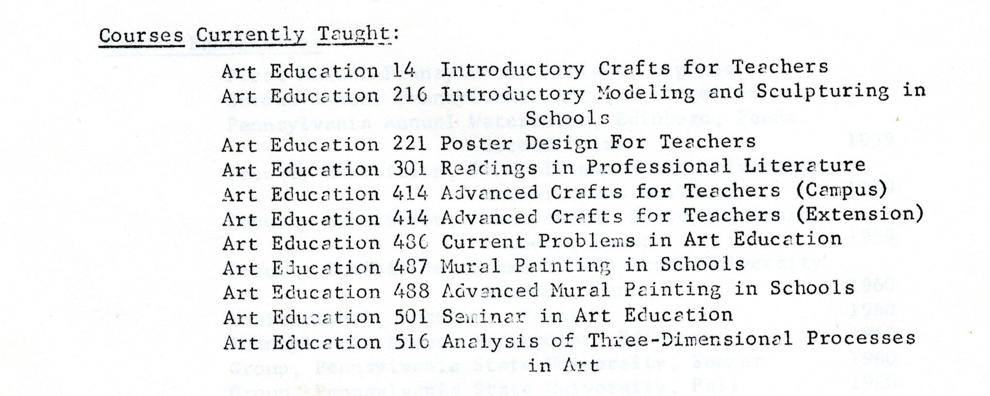 A protégé of Austrian artist and Penn State professor Viktor Lowenfeld, Chomicky largely took over his mentor's student mural program, instructing courses throughout the '60s, '70s and '80s. He died in 1992.
Colm Chomicky, the professor's 67-year-old son, said his father's mural classes were responsible for a lot more than potentially the one in Willard.
Students painted throughout Calder Way, the now-inaccessible tunnels beneath Shortlidge Road and the South Residence Halls, he said. Most of these murals are now painted over or obscured.
A retired environmental engineer residing in the Kansas City area, Colm said the '70s were an especially "dynamic" time for mural painting at Penn State.
His father, he said, was popular among students and professors, and he painted a mural series currently displayed at the Mifflin County Historical Society.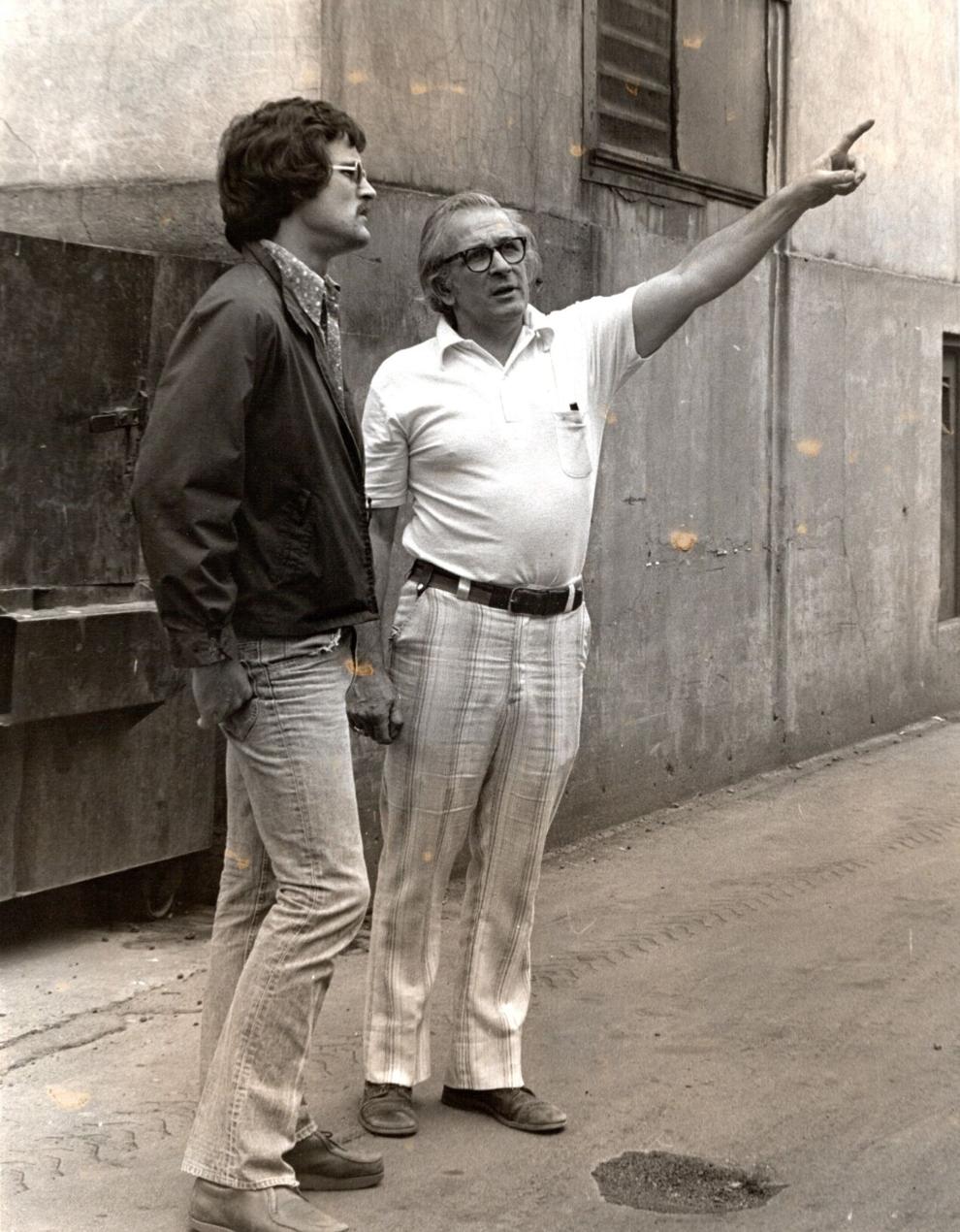 Colm was also a sculptor and watercolorist, and he authored "Watercolor Painting: Media, Methods, and Materials."
"He was known for a lot of things, not just the murals," Colm said.
Dodging an electrical box and ducking under some wire supports to the far-right side of the Willard mural, the painting ends with stray brush strokes and is stained with mud, presumably from 40 years of Pennsylvania thunderstorms.
But in gray paint next to a solidified chunk of earth, the mural offered a hint to its origins. It reads: "MPF 82," the same initials and timeframe offered by the Atlas Obscura commenter. 
Analyzing graduation commencements from the early to mid '80s, only one student in Art Education and related studies matches the initials.
Her name is Mary Patricia Ford. But her students call her Ms. Ford.
She is a fine arts teacher at Pennsauken High School in Pennsauken Township, New Jersey — right across the river from Philadelphia. She is originally from Holmes, Pennsylvania, in Delaware County, and she graduated with a degree in art education in 1983.
Ford confirmed she is the "MPF" who helped create the mural in the summer of 1982 under Professor Yar Chomicky. She helped to design it, and she did most of the painting, she said.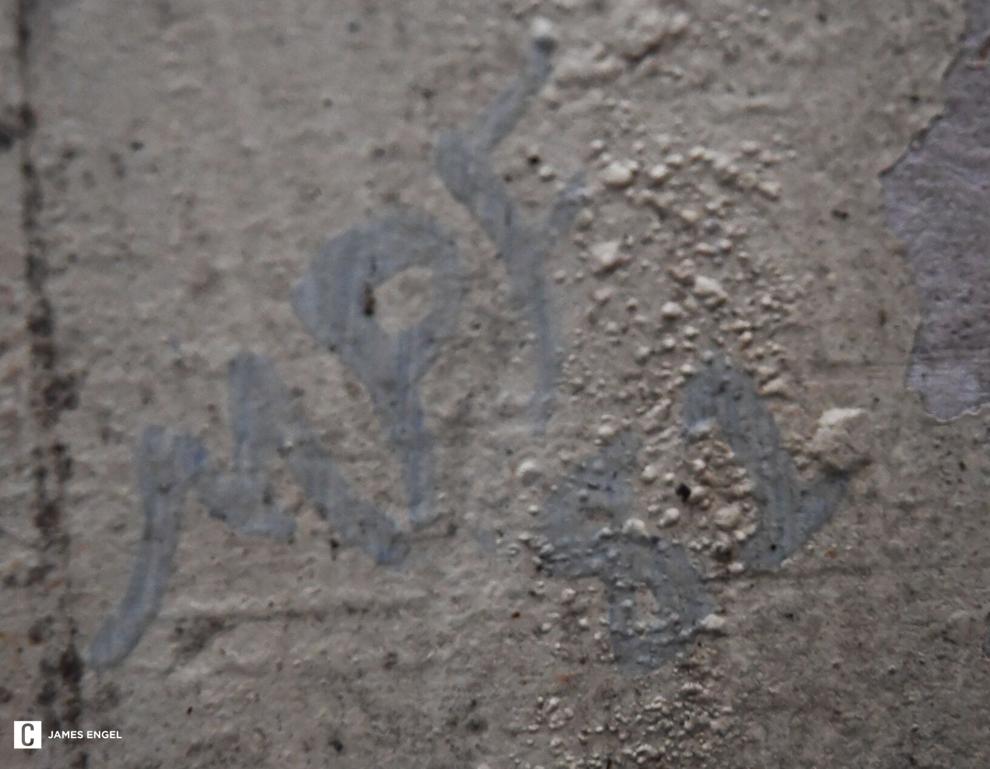 "I've been getting [Atlas Obscura's] emails for years, and I opened it up, and, 'Oh my gosh, there's my mural,'" Ford said.
The center "medallion" and its text were painted in the tunnel by Ford 40 years ago. She and a few other students worked up the design based on Native American art, she said.
Always having an interest in Indigenous American art, she said she cannot recall the specific Native influences that led to the text and styles — but the artists knew they wanted something "geometric."
The project initially began with around 10-12 students, but most moved to different projects or were absent from the tunnel, she said. By the project's end, Ford said she and an occasional partner, whom she cannot recall, were the sole occupants of the tunnel under Willard.
Riding through campus on her 10-speed bicycle, she said the whole project took about 15 weeks, and she worked six days a week to complete the mural. She called the whole process "therapy."
Of professor Chomicky, she said she remembers him as a "very kind man" with "a passion" for his work. Ford said the professor valued student opinions, and he liked the Willard mural, even if he was weary about the location Penn State had picked out for its creation.
"He loved it. He didn't critique it at all," Ford said. "He just said, 'Nice work' and walked away."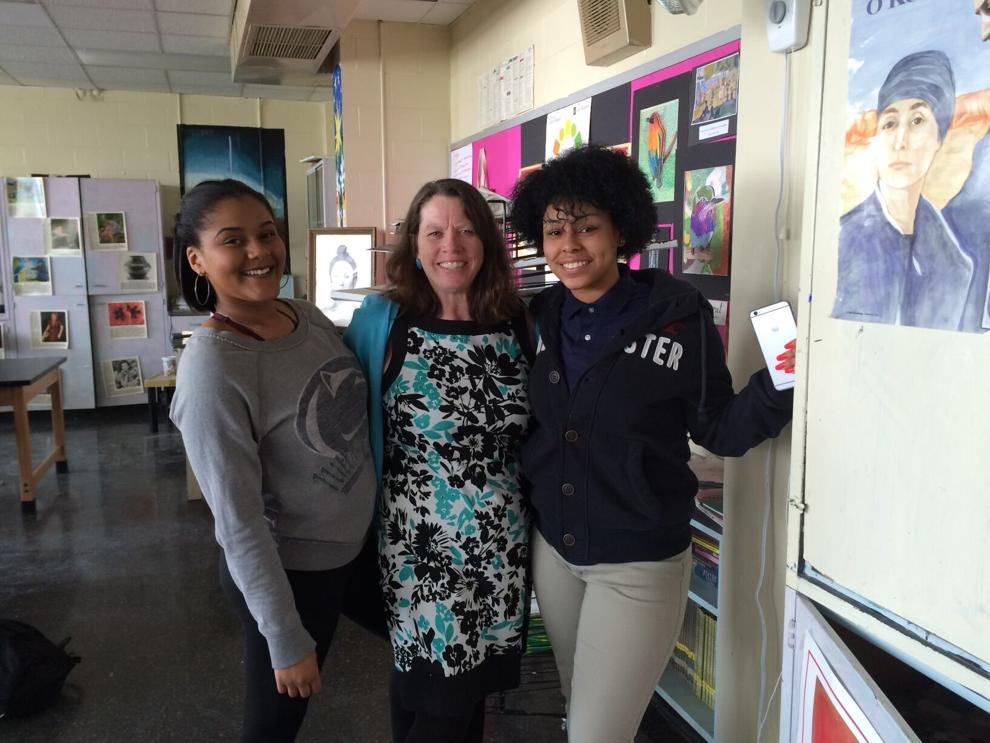 She got an A in the class.
At the time of its painting, four administrative offices sat opposite the mural with windows into the tunnels. Ford said she befriended two of the office occupants, who appreciated the work as opposed to their previous view of a blank concrete wall.
The art teacher called her workspace "a cave," although the offices that sat opposite the cave have since been converted into a screening room, losing one of the four windows in the process.
"I always wanted to put some stone arch going in to say, 'This is a cave. This is a grotto. This is an experience,'" Ford said.
Her final class before graduating took place in the Willard Building some time later, she said. She said she thinks it was statistics.
After graduating, Ford said she spent five summers working in the Alaskan fishing industry to pay back her college debt before beginning her career in education. She has spent the last 29 years at Pennsauken, where she's currently teaching drawing courses. 
"I'm called the mom at school because that's the type of teacher I am," she said. "I'm very old school."
Ford also obtained a degree in horticulture from Temple University, where she met her husband, she said.
About a decade ago, she said she took her husband on a trip to Penn State and showed him her work. But the art teacher said she was displeased by the electrical equipment that had been installed in the tunnel since her time there. 
"I was very disappointed to come in and see that," Ford said. "They didn't care about the artwork. They just needed to put the equipment there." 
Ford said she continues her creativity. At Pennsauken, she said she painted murals in the halls of the school and has supervised students doing the same. 
In addition to her artistic projects, Ford said she worked as a photographer for the Collegian, which she "loved." 
"I'm still using my art. I take pictures almost every day, so I'm still using my photography, and I'm still teaching," she said.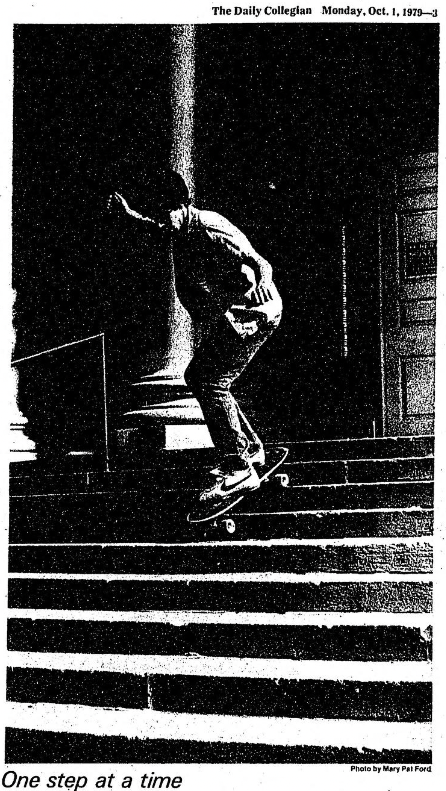 The mural in the access tunnel under the Willard Building was never a mystery to Ford. And she said she didn't know it was one to others until she read McAninch's Atlas Obscura piece.
But, to most, it was a mystery. And even the most basic questions were left unanswered. So: 
Who? — Ford and her classmates.
What? — A pretty big mural.
When? — Summer 1982.
Where? — A tunnel under Willard.
Why? — For a Yar Chomicky art education class.
The questions are answered now, but the mural hasn't changed. 
According to Steven Watson, director of planning, design and properties in the Penn State Office of Physical Plant, there are no plans to remove the mural "due to it being relatively inaccessible and not visible from the public realm." 
Ford and her classmates' work will remain hidden in plain sight, although maybe a bit less mysterious. 
"I'm glad I left my mark on Penn State — in many ways," Ford said. "Between The Daily Collegian and the mural." 
Editor's Note: We would like to extend special thanks to Penn State Special Collections and Alex Bainbridge for their previous investigations into the mural. This work wouldn't have been possible without the groundwork laid by Bainbridge and the aid of the archives staff.
MORE NEWS CONTENT
As the school year comes to a close, graduating students are busy taking their senior portra…